If you're feeling stressed or just want to be pampered, a massage is always a good idea. The only thing that can make a full-body massage any better is when it's being performed by a scantily-clad, beautiful woman! It's why erotic massage is one of the most popular services we offer at Hot Stuff Entertainment.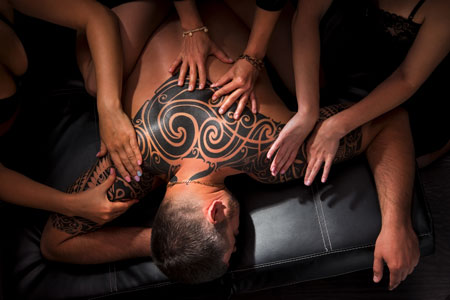 When you hire one of our sexy ladies for full-body massage in Lake Havasu City, Desert Hills, Mohave County, or Havasu Lake, AZ, you're going to get an out-of-this-world experience that's both arousing and relaxing all at the same time. Our ladies work to relieve the stress and tension throughout your body, all the while being careful to caress and massage you gently and sensually. You won't get an erotic massage that feels this good anywhere else—we guarantee it.
The best part about our massages is that they're being performed by a gorgeous girl who's wearing as much as you are—absolutely nothing! You'll enjoy her sensual touch in the privacy of your own home, with sessions that are long enough to target total-body relief. By the time she's done, you'll have felt the stress of the world melt away and you'll be left feeling renewed and restored!
To schedule a full-body massage, performed by a sexy lady with magic hands, contact Hot Stuff Entertainment today. Whether you're planning a day of pampering in advance or you decide to treat yourself at the spur of the moment, we've got girls standing by, ready to massage you. Contact us today at 928-505-8205 for a massage, bachelor party entertainment, or private strip show. We promise an erotic massage that's sensual, exciting, and relaxing, all at the same time! We also serve Laughlin, NV and Bullhead City, AZ.